---
No Noise at Selfridges for Headspace
December 2012 · Freelance
Creative Technologist
It's not every day that you're briefed to promote mindfulness and meditation on 180inches of pixels on Europe's busiest street.
As part of a brand partnership with Selfridges to promote their No Noise campaign, I worked with Headspace to create an interactive installation on Oxford Street to encourage passersby to take a moment to pause.
Starting with a noisy scene made out of a cloud particle system that shows silhouettes of passersby, the installation springs into life when someone takes a moment to pause in front of it. The clouds explode and disperse, before re-forming to show the tagline, "No matter how many clouds, the blue sky is always there" and to invite the user inside the store.
---
Experiments!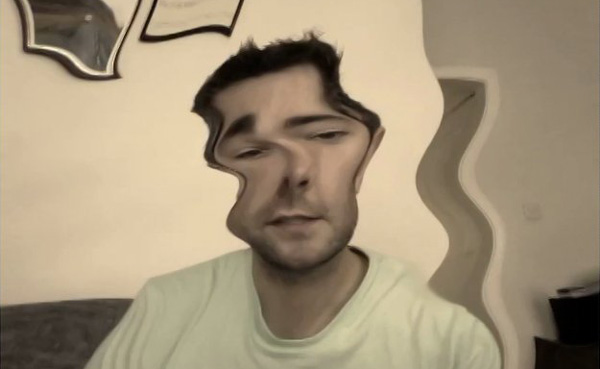 September 2012 onwards · Freelance
R&D
Now I'm back in London, I'm experimenting with new technology between freelance jobs. Check out the fruits of my labour below!
---
Best Fish Guide - PhoneGap iOS app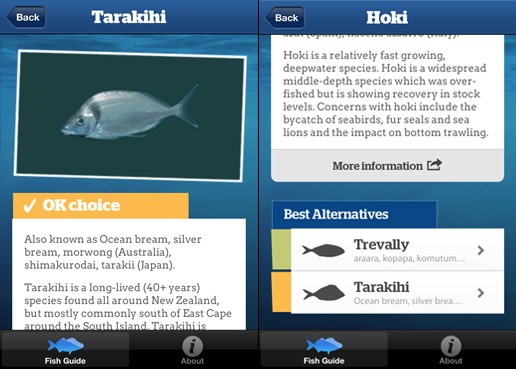 March 2012 · Resn
Lead Developer, Prototyper & Technical Director
Are you stood in the supermarket right now wondering which fish to choose? Do you want to make sure that the fish was caught sustainably? Well you're in luck.
The Best Fish Guide iPhone application shows a wide variety of fish along with an easy to understand rating to help you choose. Do you normally go for a 'bad choice'? The app will suggest good alternatives to help you change your ways.
Created for the charity Forest and Bird, flexibility and re-usability of the code was key. The app is built using PhoneGap, and whilst currently only available for iOS, an Android version is soon to be released. And because PhoneGap acts as a wrapper for HTML and Javascript, the app could also be turned in to a mobile web site.
This app provided an opportunity to help a great cause and also to do some R&D. This was the first use of Backbone and Sass, for both Resn and myself, and the structure and approach that we created and refined for this project has been used as the foundation of other HTML projects that have been built since.
---
Technical Director at Resn
February 2011 - July 2012
Working with the NSFW misfits at Resn in New Zealand was fantastic. As Resn's first ever Technical Director, I oversaw the dev team and was kept pretty busy. I had one eye on a never-ending stream of exciting projects, another eye on planning, estimating, documenting and refining processes, yet another eye on interviewing, hiring, and internal reviews and one final eye on working face to face with clients and third parties.
Highlights included :
managing a growing team of developers and taking on bigger and more complex projects whilst also diversifying into new platforms and technlogies such as HTML5, Stage3D, Objective-C iOS development, Unity3D and Air for iOS.
working closely with both clients and third party collaborators, ensuring buttery smooth communication and world domination.
overseeing the setup of a new office in Amsterdam - interviewing and hiring fresh blood and ensuring that processes and tools were in place to allow us to collaborate from opposite sides of the world.
working closely with Saatchi & Saatchi and the Amazon Web Platform team to build and then scale The Camry Effect to successfully withstand a deluge of traffic during a Superbowl half-time ad.
working with Google to promote Google+ Hangouts with the slice of fried .gif that is Face Arcade.
4 x FWA Site of the Day
FWA Mobile of the Day
Design Institute of New Zealand Best Award
2 x Pixel Award nominations
2 x Pixel Award People's Champ awards
---
Misfits Personal Trailer

2011 · Specialmoves
Lead Developer & Prototyper
To promote the new series of Misfits, we used cutting edge Facebook video integration to immerse fans alongside their favourite characters. After a series of prototypes and test shoots we delivered an experience with a very high attention to detail.
Using Flash and the Facebook API, we pulled in the user's profile picture and rendered it in to the video. Sounds simple enough, right? Well we pushed it to the limit. The user's face didn't just hang on the wall like numerous similar projects have done since. We showed many instances of the user's face at once, graffitied the user's name on a wall, tore the face in half and even set it on fire. This wasn't your regular TV series trailer.
Feedback from fans was amazing. From wonderment and amazement to the Facebook comment, "I like Roast Pork", we definitely struck a chord.
---
Global Lynx / Axe site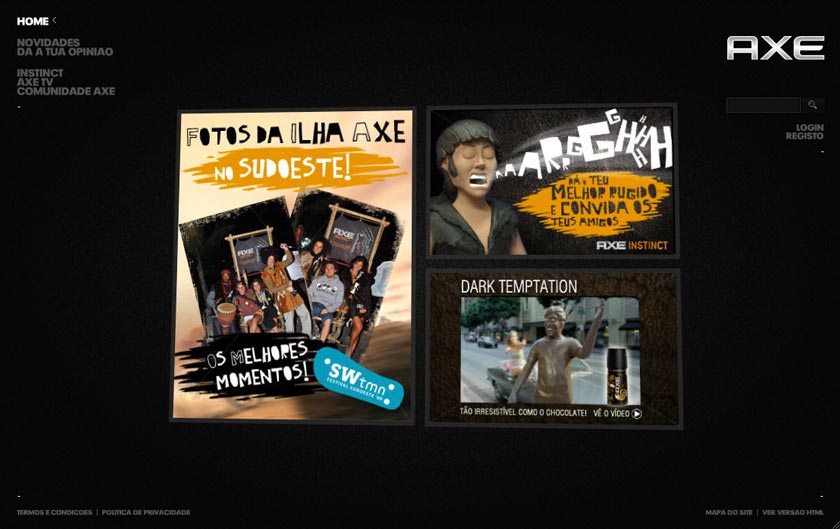 2009 · Specialmoves
Front-end Technical Lead and ActionScript Developer
Available across Europe in multiple languages, this project was an incredibly dynamic Flash and HTML website. The site is driven by a .NET back-end and the Lynx/Axe team in each country can manage and translate their own content using a bespoke AIR CMS.
---
MyDeco Room Planner
2007 · Specialmoves
Developer
A Flex application created for interior design startup Mydeco which lets you create your perfect room.
Build, paint, decorate and then add your favourite furniture. Finish up by generating a high-res, 3D render and a shopping list to help re-create your room!
FWA SOTD
IMA nomination
BIMA nomination
E-consultancy Innovation Award in User Experience